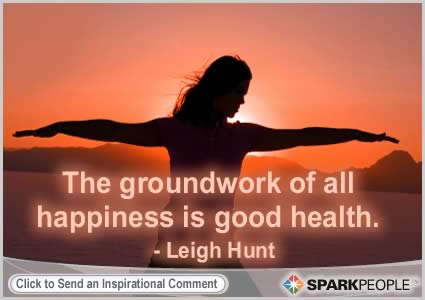 WoW! I need this one framed and hung up in my house. I think I need to figure out what "Good Health" means to me.

1. Spiritual Health = I need to maintain a relationship with God / Heavenly Father. This is difficult for me at times for many different reasons... I feel unworthy of His love, I forget to ask for His help, I think I can do it on my own, I can't Live up to what I know I'm capable of spirtually. But... I need to remind myself over and over and over... God loves me and is there to help me no matter what. Always remind myself how I would treat my children and forgive / love them. That's what God wants to do for me. MEDITATE / PRAY / Hmmmmmmmm....

2. Physical Health =

Eat healthy: 1300-2000 calories a day. Eat fruits, veggies, and healthy fats. Get daily exercise. Hydrate, Hydrate, Hydrate. Get enough sleep. Meditate, listen to the sounds / world around me.



3. Emotional Health = Whew... don't know yet for sur about this one.

4. Financial Health

= Skip Skip Skip...



5. Career Health

= Love the summer... Let you know more in a few weeks.



6. Family Health

= Balance my time with husband and each child. Be the example by being patient asking for God's help when making decisions and trying not to over~react immediately. Gosh... that's difficult with a teenager. Continue to communicate openly with ALL family members but especially with my husband.